I attended my first WordCamp US this year and it was great!
The Travel
WCUS 2023 was held in National Harbor, Maryland. It was my first time visiting the DC area.
DC is such a well documented and important city that I felt like I knew exactly what to expect and it delivered. Basically to the extent that my own personal experiences feel a little trite given the vast amount that has already been written about the city.
Personal highlights though were finally meeting some of my teammates IRL and biking around DC with them on the Sunday (also frisbee).
So I'll forego the usual travel blog and jump right to the talks.
The Talks
Videos of the talks have just been posted online (full playlist).
Here are my highlights
Most Groundbreaking
The WordPress Playground has existed for a little while now and it's one of those things I filled away in my mind to check out later.
It is absolutely incredible.
It's literally a copy of WordPress running PHP in your browser! It's not a virtual machine you're remote desktop-ing into, it's actually running in your browser! There's a tonne of potential applications.
Antonio Sejas talks through some of them.
Check it out, I have a feeling this could be the future.
Most Engaging
How do you make a dry topic like core web vitals engaging?
Enter Henri Helvetica.
Easily one of the best talks on any subject that I've ever seen. It's fun and you might even learn something.
War stories
Two talks I am putting under the "war stories" slash "how we built this really cool thing" category.
If you've ever worked on client projects I think you'll find these two talks validating.
Contributor Day
The Thursday before the event was set aside for "contributor day."
Essentially, anyone interested working on WordPress itself could break into small groups to contribute to a specific area of the project (be it core, documentation, infrastructure, etc.). Apparently, at previous WordCamps the contributor day was held after the main conference when everyone was tired/hungover. The day before definitely seems like the right choice to me.
I fell in with the group making a renewed push for a core fields API.
Read Scott's post.
And check out the repo: https://github.com/sc0ttkclark/wordpress-fields-api
I'm actually semi-interested to start a local regular contributor day, if I can find any collaborators.
Oh, And The Swag…
I got some.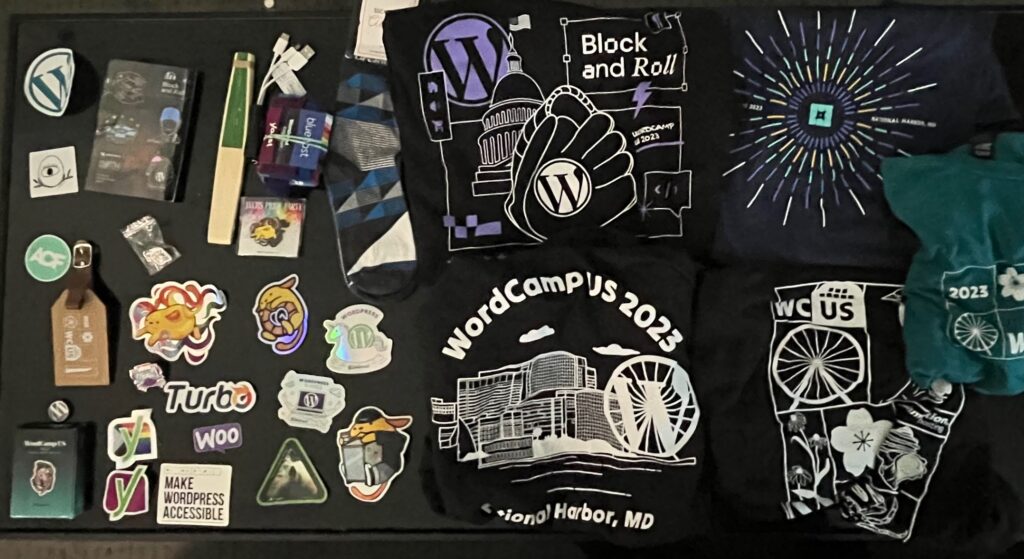 Verdict
I met a lot of cool people, had a lot of great food and conversation.
10 out of 10. Would WordCamp again.
---
Get Involved
So hey, if you're local to me in the Winnipeg area and you're interested in WordPress, check out the monthly meetup.
It's not just for developers, in fact most of the attendees are often end-users.
It's the on the first Wednesday of the month at 7PM at Red River College downtown campus, more info and RSVP on eventbrite.