When I left the iPhone ecosystem by switching to a Google Pixel 3.5 years ago people who knew me well were surprised. I had become an Apple guy. But iOS was boring. It felt stagnant. The Pixel felt like an innovative layer on top of an otherwise maybe-not-so-great Android ecosystem. I was quite happy with it and I was confident I wouldn't switch back.
For reasons mainly related to availability, I decided to give iPhone another chance earlier this year. My opinion has flipped almost immediately.
This may sound silly but a lot has changed since 2018; iOS feels fresh again. For example, it's implementation of widgets is really clever and useful; the cross-device focus mode is a great solution to the notification overload problem. Among other things. Apple is back on its game. I thought I would miss the pixel but I almost don't at all.
A month in, I'm noticing some things that lead me to wonder if Apple might be building a social network, in reverse, without a newsfeed.
Messages as a Social Sharing Hub
One of the core features of any social network has always been the ability to message with other users privately or in groups. In the early days it wasn't real time. It was more like limited email. All of my earliest social experience had private messaging features: forums and even prior to the internet BBSes.
In a world where we've all been avoiding physical contact and hiding in our homes as much as possible lest we get the plague, text-based messaging has become the definition of social for much of the world.
iOS' Messages fills this need. Obviously.
But iMessage is doing something that goes above and beyond anything I've ever seen a social network implement.
"Shared With You"
Apple's News app has a (somewhat buried) feature that lists news articles that have been shared with you in iMessage. Automatically.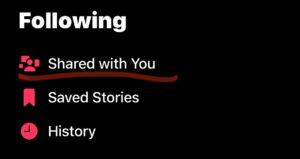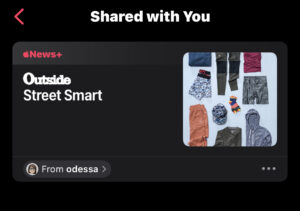 It's almost like a newsfeed specifically limited to the app you're looking at.
Similarly, Safari's "start page" shows you everything shared with you from every conversation in iMessage (that isn't a News link). Particularly handy when you're trying to remember which shoes your wife wants.
Both of these are more useful and easier to manage than the crazy algorithmic newsfeed of a Facebook or LinkedIn. Both of these features are synced across devices (including MacOS).
Other Apps
"Shared with you" isn't particularly well implemented in other apps.
Music has a concept of "friend" but they're hard to find and I'm not convinced there's much utility in seeing things like your friends' playlists.
Photos has shared albums but they're not integrated with iMessage or anything else – perhaps because this feature pre-dates Siri and perhaps also because it's available outside of the Apple ecosystem.
Gamecenter has fallen by the wayside as a user-centric feature. It's just a storage and leaderboard utility for game developers now.
Etc.
Contacts as Profiles
Another social-network-esque feature surfaces with the "Contacts" widget.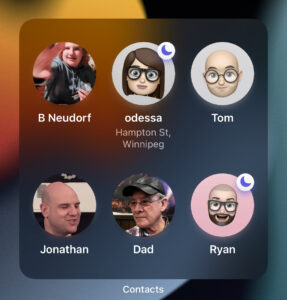 First, the widget presents you with a Siri-generted top 6 (or 3 in the smaller version) contacts reminiscent of MySpace's "top 8". Hilarious.
Secondly, it's able to take advantage of iOS integration to securely display a couple of features that might make you nervous in any other context. That is, the contact's focus status (note: the icon becomes a car when driving focus is enabled) and their current location (if location sharing is enabled).
When you tap on one of the icons, you get a version of the Contacts app that's more condensed and useful than anywhere else in iOS. It removes all the settings options and editing features that you see in other contacts views, leaving only the contact's details and shared items.
It's a user profile.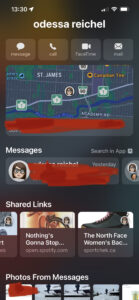 To reiterate, the extra brilliant thing here is that all of this data has been collected, organized and analyzed on device. No need to grant a third party intermediary with ulterior motives access to your data.
Is this a social network?
The features I've described could be summed up as "link sharing" and "messaging." In my opinion, these have always been core features of every social network. Perhaps the most important features of those social networks. What is Facebook's core feature? A newsfeed of shared links (albeit perverted by a terrible algorithm).
Not to mention that a large amount of social networks are built around just one of those two features. Reddit was just a link feed for most of its history. Snapchat is just (picture/video focused) messaging. Etc.
At the very least iOS has some of the features of a social network.
However, iOS is missing two features fundamental to social networks. Posting and friend/group discovery.
iOS doesn't have a mechanism to post a link or message to all of your contacts at once (aside from creating a giant group message comprising all of your contacts and I feel like that would be ridiculously chaotic). Nor does iOS give you a way to find new people, nor discover interest groups.
Without these features there is no "networking."
No. It's Messaging+.
What Apple has enabled with its cross-app-data-linking is more like "messaging+". It adds functionality to iMessage.
It makes an already social experience more useful, in ways that none of the current social networks are actually able to accomplish.
Apple could go further and position itself to – maybe not replace but – obviate social networks as we know them today.
If Apple finally released iMessage for Android (like it's been promising) so that everybody on any device had access. And if they opened up iMessage's "shared with you" API to other apps (in a responsible manner) then I think things could get really interesting.
---
Props to @levisan for pointing my train of thought down this track.